June 23, 2017
Welcome to summer! I'm spending the summer working on the next version of Floridata which I hope to launch by autumn. In the meantime we'll continue posting new Plant Profiles to this site so please visit us often and bring your friends. Don't forget the sun screen and be good and grow! Jack
New Plant Profile
Foxglove beardtongue (Penstemon digitalis) is a spring-blooming perennial and the latest addition to Floridata's Plant Encyclopedia. A few selections of this American native are available, the cultivar 'Husker Red' has purplish foliage and very showy flowers that last for weeks. Foxglove beardtongue is a used in beds, borders and native plant gardens in USDA Zones 3-8. Read more about this easy-to-grow native that will probably look great in your garden too.
Deutzia Update
Our profile of the slender deutzia (Deutzia gracilis) had some bad pictures and I've been intending to update them for some time. At last I caught a pretty planting of deutzia shrub blooming at our local arboretum (Boone County Arboretum, near Union in Northern Kentucky - visit if you get a chance - and you can even bring your dog!). Read more about slender deutzia, a pretty little spring-blooming shrub that grows in USDA Zones 4-10.
The fuzzy deutzia (Deutzia scabra) is another member of the genus that blooms at about the same time. It has a more upright form than the slender deutzia described above and has blossoms that are a bit larger and more fragrant. Fuzzy deutzia shrub is grown in USDA Zones 4-8 where it is a popular woody ornamental.
Summer Survivors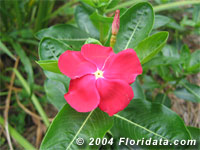 This amazing tropical perennial is unfazed by heat and humidity and dependably produces brilliant blossoms all season long. I like this solid-colored selection with flowers that lack the white "eye" in the center like those of the species. Grow the Madagascar periwinkle Catharanthus roseus) as an annual in cold winter areas. This plant is perfect for window boxes and containers, beds and borders. Click to download a large version (800x600), to display on your computer desktop.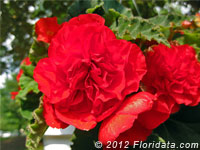 There are thousands of begonia species, selections, hybrids and cultivars. My favorite is the showy tuberous begonia (Begonia x tuberhybrida). These heat tolerant beauties cover themselves with brilliant blossoms throughout the season and so are often used in outdoor beds and especially for container plantings and hanging baskets. Click here for more on these blooming beauties that are hardy in USDA Zones 9-11 and grown in other Zones as annuals (or lift the tubers are lifted in the fall and overwinter indoors).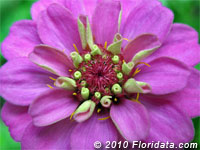 Another easy-to-grow bloomer that can take the heat is the humble zinnia (Zinnia elegans). I always keep a patch of them somewhere in the yard so the hummingbirds have a reason to hang around for dinner during the dog days of August. Click to download a large version (800x600) for a closer look at this in mid-bloom beauty.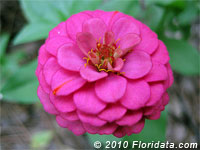 Last year I planted a border of these pompom zinnias (Zinnia elegans 'Lilliput'). They're amazing - they keep right on blooming even after being beat down by storms or laid on by deer! The pompoms are only about an inch and a half in diameter and look like precious jewels when the deer aren't on them (zinnias are one of the few garden plants they don't eat, but they do like to stomp on them). Click to download a large version (800x600) of this pretty pompom picture.
Herbal
"Sugarleaf" is another name for this famous herb that has a long history of use as a sweetening agent in Asia and other parts of the world. Stevia extract is becoming very popular in the US as a no-calorie replacement for sugar and synthetic sweeteners. Click here for more on this sweet plant that will happily grow in a container on your kitchen windowsill. Here are a few more flavorful herbs that might be happy growing on a (bright) windowsill:
For the Hummers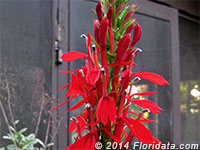 Steve grows a beautiful patch of cardinal flower (Lobelia cardinalis) in his garden. This showy native of eastern North America has showy flowers that will attract hummingbirds from all over the neighborhood! Here are a few more Profiles of Plants that attract hummingbirds:
Summer Bulbs & Tubers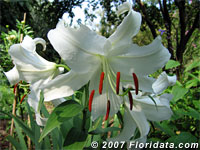 I visited a friend in Georgia and was astounded by the dozens of huge (six feet tall!) pure white 'Casa Blanca' lilies (Lilium hybrids) that were blooming in his garden. These Oriental lilies are as beautifully fragrant as they are visually stunning!
Welcome to our New Site!
All of our articles and resource pages can be accessed from the Articles and Resources link is in the Site Menu at the upper right hand corner of each page. Some of the pages in our archive will be temporarily unavailable until they are reformatted and re-posted here on the new site. Sorry for the inconvenience.