May 27, 2016
Please help us promote Floridata and increase visitor traffic by posting links to our pages and using the "sharing" icons (Facebook, Twitter, etc.) to send Floridata pages to your friends. Visit us often and be good and grow. Jack
New Plant Profile
Great white trillium (Trillium grandiflorum) is a spring blooming perennial wildflower that is native to the forests of eastern North American. Composed of three whorled leaves, three white petals and three sepals, this wildflower is beloved for its simple, elegant beauty. Read more about this superstar of springtime wildflowers for woodland gardens and other shady spaces in USDA Zones 4-8. Here's a list of a few other woodland wildflowers to look for at this time of year:
Flowering Shrubs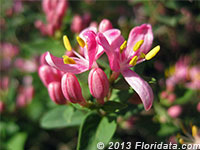 This deciduous flowering shrub has been grown in gardens for centuries as indicated by its common name, old fashioned weigela (Weigela florida). It blooms in early spring and hummingbirds are attracted to its handsome flowers that come in a range of colors thanks to numerous cultivars and hybrids. Click here for more on this old fashioned favorite for Zones 5-8.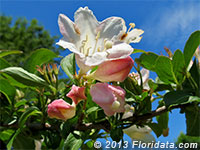 This is 'White Knight', one of a number of showy weigela hybrids that bloom at this time of year. Download a large version of this image and visit the weigela profile for others.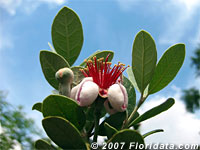 The feijoa (Feijoa sellowiana) is one of my favorite shrubs for many reasons including it's edible fruits, drought tolerance and handsome flowers that began appearing earlier in the month. The waxy petals of feijoa flowers are succulent and sweet and a treat to eat so sometimes I do. Click to download a large version (800x600) for your computer desktop.
On the Waterfront
The yellow flags (Iris pseudacorus) are just finishing up blooming here in Kentucky. Yellow flags are water lovers and are often seen growing at the edge of ponds and lakes. They can be invasive in some places so check locally before planting to ensure you're not creating a problem. More water-loving species:

Shade Lovers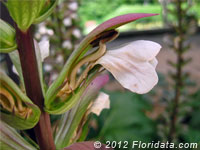 I saw a nice big bear's breeches (Acanthus mollis) in bloom at Callaway Gardens, Georgia. This species has remained a popular garden item since classical times. Also known as Grecian pattern plant, the leaves of this species are rendered in stone on the capitals of Corinthian style columns. Bear's breeches does well in partial shade and looks great planted with hostas and ferns. More summer shade-loving species: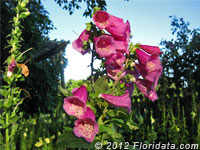 I aslo saw a bunch of pretty foxgloves (Digitalis purpurea) in bloom when I visited Callaway Gardens last weekend. Now I find that I want to grow some too. Download large versions of this and other images from the Foxglove Profile
Spring Fragrance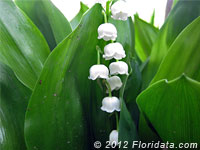 The lily of the valley (Convallaria majalis) plants in my neighborhood are in blooming now. The little flowers are big on fragrance! The bearded iris, peonies and the sweetbay magnolia trees so it's smelling pretty good around here. More fragrant spring beauties: