September 30, 2016
Happy Weekend! It's been cool and rainy beginning to feel like fall in my Northern Kentucky neighborhood. Sunshine is in the forecast so I'll be out planting salad greens this weekend (lettuce, spinach, arugula) - in boxes on my Mom's condo balcony. The deer have taken over around here. I give up, I'm going container. I'm non-violent and don't want to be mean or anything but I wouldn't be sad if a few of these deer had unfortunate hunting accidents. Thanks for visiting! Please tell your friends about Floridata and be good and grow. Jack
New Plant Profile
Seaside goldenrod (Solidago sempervirens) is one of North America's native fall-blooming wildflowers. Seaside goldenrod grows from Canada along the entire Atlantic coastline to the Gulf Coast all the way to Texas as well as around the Great Lakes including a few scattered inland locations. Seaside goldenrod is hardy in USDA Zones 2-10 where it is planted in natural and wildlife gardens where it is used for erosion control and to attract birds and butterflies. Read profile » :
Autumn is also when the sweet goldenrod (Solidago odora) burst into bloom throughout eastern North America. Long used in folk medicines, this showy wildflower is also known as blue mountain tea and used to treat urinary, digestive problem as well as several other complaints.
We're proud to have Floridata Profiles of many unusual plants that you're not likely to see on other web sites - the woody goldenrod (Chrysoma pauciflosculosa) (great name!) is one of these. Though a different genus than the "real" goldenrods (Solidago), this species has very similar flowers and bloom at the same time of year (autumn). Floridata features profiles of many familiar and favorite garden, landscape and edible plants that you might be looking for in addition to many other less familiar species that have certain special talents, smells, uses, habits or hilarious names. Here are a few more profile links to some pretty fall flowering natives:
Cool Weather Flowers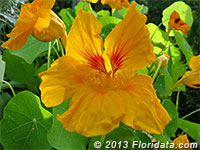 In Florida and similar warm winter climates, we can grow many very beautiful cold resistant flowering plants at this time of year. The nasturtium (Tropaeolum majus) is one of these that likes cool weather. In Zone 8 where I lived, they are planted in fall and bloom throughout the winter - unless it gets really cold and then they don't. The big fat seeds are easy for kids to handle and they are fast growing and quick to produce showy flowers (which are not only non-poisonous but edible as well!). Here are a few more of my cool flower favorites for the winter garden:
The Gerber Daisy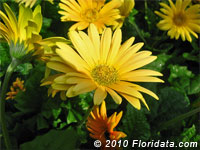 The gerber daisy (Gerbera jamesonii) has huge colorful flowers, is easy to grow and is one of the few plants that I've ever managed to get to bloom indoors. Even where they are not hardy, the gerbers are a favorite container and bedding plant. Instead of letting yours freeze to death when cold weather arrives, consider bringing them indoors for the winter. Even if you don't take very good care of it, your gerber will survive and recover quickly when you plant it back outdoors in spring. Click to download a large version of this golden-yellow gerber to display on your desktop.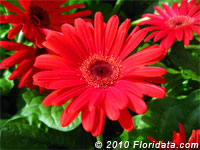 ... but if you take care of your gerber when you bring it indoors you will be rewarded with colorful flowers - like these spectacular scarlet blossoms - right in the middle of winter when you'll appreciate them the most. Read more about this easy-going beauty in the profile ». I made a list of link to profiles of a few more species that you'll have fun getting to bloom indoors:
It's not really a strawberry nor is it a begonia but the strawberry begonia (Saxifraga stolonifera) does resemble those plants in some respects. Strawberry begonia is a low-growing, tender perennial noted for its handsome foliage and interesting flowers. Gardeners in warmer climates use strawberry begonia to create colorful groundcover plantings suitable for shady areas beneath trees and other low-light situations. Read more about this pretty little perennial that is hardy in USDA Zones 7-10 and that is grown everywhere indoors in containers and especially hanging baskets where the slender stems can gracefully cascade over the edges.
Mo'omomi Dunes, Moloka'i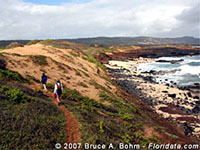 Although one of the smaller of the Hawaiian Islands, Moloka'i incorporates a rural life style all but vanished from the larger islands and a quiet beauty of its own. Its nickname, The Friendly Isle, could not be more apt. Click here for a botanical tour of this uniquely beautiful island.
Flowering Plants of Hawaii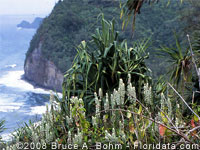 The Hawaiian Islands are home to an array of native plant species that has attracted the attention of botanists, naturalists, horticulturists and world travelers ever since Europeans first visited the islands near the end of the 18th century. Read more »
Welcome to our New Site!
All of our articles and resource pages can be accessed from the Articles and Resources link is in the Site Menu at the upper right hand corner of each page. Some of the pages in our archive will be temporarily unavailable until they are reformatted and re-posted here on the new site. Sorry for the inconvenience.