February 10, 2016
We are experimenting with new technologies and advertising services. Please excuse occasional errors and random weirdnesses - these should be infrequent and short in duration. In the meantime we'll continue to post new Plant Profiles, features and re-post the remaining archived content from the "old" Floridata. If you encounter any problems or would like to offer suggestions, please use the Contact Us form from the menu (in top right corner). Thanks for helping us grow a bigger and better Floridata by sharing us with your friends! Visit us often in 2016 and be good and grow. Jack
New Plant Profile
Our newest plant profile is of the Juneberry (Amelanchier x lamarckii) a beautiful deciduous shrub or small tree. Beautiful spring flowers, showy (and edible!) fruits, and brilliant fall foliage are just a few traits that recommend growing this species as a landscape item. Interestingly, this Juneberry reproduces by apomixis, so you should read more » about this low-maintenance beauty that grows in USDA Zones 4 - 8 to find out what apomixis means.
Members of the genus Amelanchier are collectively referred to as the serviceberries or Juneberries. Two other serviceberries are profiled in Floridata's Plant Encyclopedia:
Spring Past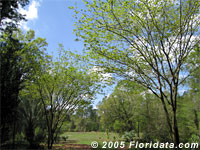 There's not a sign of spring to be seen where I am in Kentucky, but back home in Florida's panhandle (Zone 8), it's already begun. I re-formatted and re-posted my springtime Gardener's Journals from 2003. I'm working on the remaining Journals and will posted them over the next several weeks as they are completed.
The Hawaiian Silverswords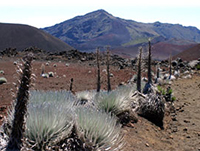 We will be re-formatting and re-posting all of Dr. Bruce Bohm's articles, including the Flowers of Hawaii book, on Floridata in the coming weeks. Read about Hawaii's famous silversword plant that live on the sides of volcanoes in The Hawaiian Silverswords Flagship Plants of the Islands. Learn more about these unique plants in the followup article Iliau-Kaua`i's Silversword.
You'll find more links on our Articles and Resources page.
Spring Flowering Bulbs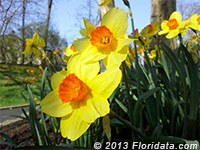 Spring flowering bulbs like tulips and hyacinths are planted in the fall. Those living in the Deep South and similar warm climates have best success with the daffodils (aka jonquils, narcissus, etc.). Read Ray's article about The Daffodils and then check out Floridata's Narcissus spp. Profile.
Spring Ephemerals
The dainty little round-lobed hepatica Anemone americana is a "spring ephemeral" wildflower. These are forest-floor wildflowers that bloom very early in spring, maturing and becoming dormant by mid-summer. Many of these are among the first to bloom so look for these others in the coming weeks:
Butterfly Favorites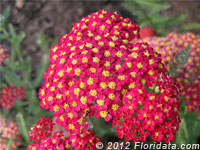 Common yarrow (Achillea millefolium) is a North American native wildflower species that thrives in the heat and humidity of mid-summer. 'Paprika' is a particularly showy cultivar that is also attractive to butterflies. Download a large version to display on your desktop.
Welcome to our New Site!
All of our articles and resource pages can be accessed from the Articles and Resources link is in the Site Menu at the upper right hand corner of each page. Some of the pages in our archive will be temporarily unavailable until they are reformatted and re-posted here on the new site. Sorry for the inconvenience.