June 21, 2017
Welcome to summer! I'm spending the summer working on the next version of Floridata which I hope to launch by autumn. In the meantime we'll continue posting new Plant Profiles to this site so please visit us often and bring your friends. Don't forget the sun screen and be good and grow! Jack
New Plant Profile
Foxglove beardtongue (Penstemon digitalis) is a spring-blooming perennial and the latest addition to Floridata's Plant Encyclopedia. A few selections of this American native are available, the cultivar 'Husker Red' has purplish foliage and very showy flowers that last for weeks. Foxglove beardtongue is a used in beds, borders and native plant gardens in USDA Zones 3-8. Read more about this easy-to-grow native that will probably look great in your garden too.
Deutzia Update
Our profile of the slender deutzia (Deutzia gracilis) had some bad pictures and I've been intending to update them for some time. At last I caught a pretty planting of deutzia shrub blooming at our local arboretum (Boone County Arboretum, near Union in Northern Kentucky - visit if you get a chance - and you can even bring your dog!). Read more about slender deutzia, a pretty little spring-blooming shrub that grows in USDA Zones 4-10.
The fuzzy deutzia (Deutzia scabra) is another member of the genus that blooms at about the same time. It has a more upright form than the slender deutzia described above and has blossoms that are a bit larger and more fragrant. Fuzzy deutzia shrub is grown in USDA Zones 4-8 where it is a popular woody ornamental.
Salsa Vegs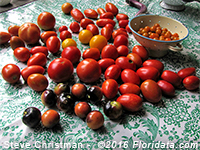 I just put in my tomato plants a few weeks ago here in Kentucky but down in North Florida Steve has already picked his first harvest. The dark fruits are 'Indigo Rose' purple tomatoes (Lycopersicon lycopersicum) - these are especially healthy (and pretty) due to high concentrations of anthocyanins and other healthy compounds. Click to download a large version (800x600) version of this image. During summer, Steve's vegetable garden always hosts the makings for delicious fresh salsa: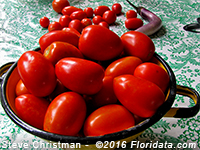 This is 'Viva Italia' (Lycopersicon lycopersicum), a high-yielding variety that is one of the best for making soup and ketchup. Click to download a large version (800x600) version of this image.
Flowering Woodies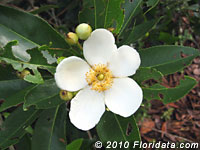 One of the many things I miss about back home in North Florida is seeing the statuesque loblolly bay (Gordonia lasianthus) trees back in the swamps and wetlands in bloom at this time of year. This American native tree produces white waxy blossoms that are easy to see, held against the tree's handsome evergreen leaves. Take a look at a few more of summer's fragrant-flowered woody species:
Butterfly Favorites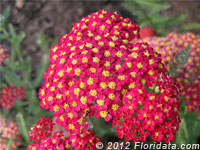 Common yarrow (Achillea millefolium) is a North American native wildflower species that thrives in the heat and humidity of mid-summer. 'Paprika' is a particularly showy cultivar that is also attractive to butterflies. Download a large version to display on your desktop.
Beautiful Beans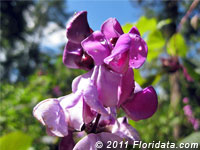 The lablab or hyacinth bean (Dolichos lablab) is an easy-to-grow, drought tolerant vine of many talents. The showy flowers are fragrant and attract hummingbirds and butterflies. The bean pods are equally showy and the beans edible (although they are toxic and require careful preparation - and also don't taste very good). At this time of year the lablab is in its full glory covering itself in both flowers and pods. Download large versions of this and other images from the Lablab Bean Profile's Image Gallery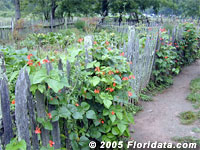 Another bean with beautiful blossoms is the scarlet runner (Phaseolus coccineus). In Europe the immature pods are prepared and eaten like green bean (), but in the US that are mostly planted for their showy red flowers that attract hummingbirds and butterflies. Read more»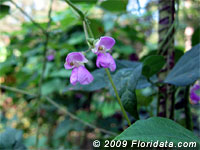 The tepary bean (Phaseolus acutifolius) is another pretty ornamental vine with showy purple flowers. Tepary beans are also edible and very nutritious. They were first domesticated in Mexico and have been found in archaeological sites dating to 5000 years before present. Read more»
Welcome to our New Site!
All of our articles and resource pages can be accessed from the Articles and Resources link is in the Site Menu at the upper right hand corner of each page. Some of the pages in our archive will be temporarily unavailable until they are reformatted and re-posted here on the new site. Sorry for the inconvenience.